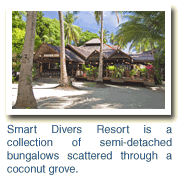 Although you can still walk around the entire island in less than an hour, Mabul is considerably larger than Sipadan, and boasts three resorts and a large village, mainly home to fisherman and employees (and their families) of the three resorts.
Sipadan and Mabul couldn't be more different. While the interior of Sipadan is untouched tropical forest, Mabul is predominantly made up of actively producing coconut trees. Practically every tree on the island is numbered and is associated with a distinct individual who cares for the tree and harvests the coconuts.



The Smart Divers resort is nestled in a coconut grove on the south-east side of the island overlooking the water and near-by Sipadan Island. It consists of 45 wooden duplex chalets with each room featuring two oversized single beds, a couch, shelves, ceiling fan, flyscreened windows, air-conditioning, a private en-suite offering free-flowing hot and cold fresh water and a front verandah.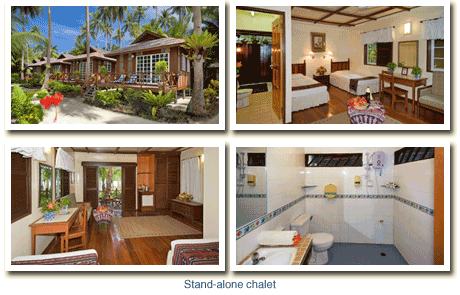 The public buildings include a main house which is an open air pavilion where meals are taken, an air-conditioned room, called TV Room, set aside for watching satellite TV, and a huge lock-up airing shed for storing your equipment each evening.


---